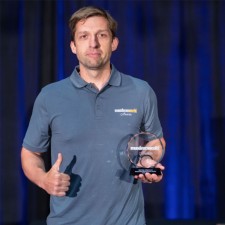 News
-
updated: Aug 7, 2019
Winning an award... there's nothing like it. And as of today, we know the feeling very well.
From 6th to 8th of August we attended the annual Maximo World event, where company Troia won an award for our T-SENSE Enterprise Augmented Reality Platform in the »Best use of Maximo & Augmented Reality/Virtual Reality« category.
Company Troia from Slovenia, one of the 100 fastest growing companies in the country, is a company of 30 goal-driven experts, making its way through global markets. Being the first European company to win the Maximo World Award is a huge accomplishment, proving hard work, high goals and professionalism are embedded deeply into the young Troia team.
Active in development and implementation of advanced IT solutions, consulting, support and outsourcing services, the development of our own Troia T-SENSE AR Platform, a product we are immensely proud of, is a win by its self. And to have that product recognized on a global scale, is a confirmation it deserves.
We are grateful that our efforts were recognized and that out of all the applicants that submitted their solutions, the award was given to us. At the same time, we are proud and thankful to our team that works hard, and to every individual who contributed and was a part of the journey that lead to this moment.
The Maximo World Award is of course only the beginning of, what we believe will be an exciting path, and we are ready to start the lift off!
Read more about our winning solution: https://www.tsense.si and don't hesitate to contact us at info@troia.si.
Share: